5.12.2005
I like Ted Leo's pharmacists much more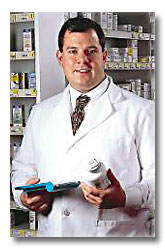 I have so had fucking enough of anti-choice pharmacists. I have this recurring dream where I go to the local Walgreens to get my Ortho-Evra prescription filled, only to have some fundie fuckwit tell me that I am an evil, baby-killing whore—the dream usually concludes with me jumping over the counter and beating the holy-rolling shit out of the little man in the white coat. In fact, I'm almost hoping for this situation to play out in real life—although the idea of calling my parents from a holding cell and asking them to post bail for me isn't nearly so appealing.
So, it seems that the latest tool in the anti-choice arsenal is to simply stop stocking the shit altogether. According to
our friends at
LifeSite,
pharmacists in Missouri have stopped stocking emergency contraception
in response to an effort by Missouri lawmakers to require that pharmacists, you know, do their fucking jobs:
Most Missouri pharmacists are bypassing the conscience debate by simply not stocking the controversial abortifacient morning-after pill according to a survey of pharmacies conducted by NARAL (National Abortion and Reproductive Rights Action League) Pro-Choice Missouri. NARAL found that, of 928 pharmacies surveyed statewide, less than a third – 29 percent – carried the Plan B prescription abortifacient, marketed as 'emergency contraception.'
Ah, how I love it when fundies call birth control and Plan B "abortifacients." They aren't. An abortifacient, by definition, causes an abortion—are we following people? Abortion is the termination of a pregnancy—make sense? Pregnancy is the implantation of a fertilized egg in the endometrium—got that? So, until the fertilized egg implants into the endometrium,
you are not pregnant
. That is not just my opinion, but the opinion of the
National Institutes of Health
. See how I can find better sources than Dictionary.com?
So, does EC cause abortion? According to the
EC website
(hosted by Princeton University, and unlike most fundie sites, this is actually peer reviewed):
No, use of emergency contraception does not cause an abortion. In fact, emergency contraception prevents pregnancy and thereby reduces the need for induced abortion. Medical authorities such as the United States Food and Drug Administration/National Institutes of Health and the American College of Obstetricians and Gynecologists define the beginning of pregnancy as the implantation of a fertilized egg in the lining of a woman's uterus. Implantation begins five to seven days after fertilization (and is completed several days later). Emergency contraceptives work before implantation and not after a woman is already pregnant. Depending on the time during the menstrual cycle that they are taken, ECPs may inhibit or delay ovulation, inhibit tubal transport of the egg or sperm, interfere with fertilization, or alter the endometrium (the lining of the uterus), thereby inhibiting implantation of a fertilized egg.
(emphasis mine)

But, enough of my logic and truth, let's get back to the wingnuts, shall we?
Abortion zealots and media alike are decrying the fact that in some rural regions, such as Shannon County and Barry County, not a single pharmacy will allow their employees to cooperate in the destruction of an unborn child. Missouri lawmakers are considering a bill that would force pharmacies to fill the prescription whether they disagree with abortion or not.
Yes, and quite the abortion zealot that I am, considering that widespread availability of EC will actually
reduce
the need for surgical abortion. Obviously, I am just looking out for Planned Parenthood's bottom line here, since I want to make sure that women have options
other than
abortion.
Last month Democratic Illinois Governor Rod Blagojevich filed an emergency amendment to the state code, requiring pharmacists to dispense medication – even if filling the prescriptions violates their conscience and religious beliefs.

"The governor is trying to make a decision that must be left to the pharmacy," said Illinois Republican Senator Frank Watson, according to a theledger.com report. Watson's family pharmacy in Greenville, Ill. does not stock the morning-after pill. "It's an infringement on a business decision and also on the pharmacist's right of conscience."
Let me repeat and emphasize what Senator Watson had to say:
"The governor is trying to make a decision that must be left to the pharmacy."
Um, excuse me, but isn't this "a decision that must be left to" the woman and her doctor? I have never had a pharmacist ask me why I am taking any medication, be it Ortho-Evra or amoxycillin. For all s/he knows, I need birth control to ease painful menstrual cramps and regulate my periods, or for lifesaving treatment for ovarian or uterine cancer, ovarian cysts, pelvic inflammatory disease or anemia. Who the fuck is some pill-pusher to stand in the way of my medical treatment, as decided by my doctor and myself?
Catholic hospitals in Colorado are already considering the
administration of ovulation tests
before they give EC to rape victims. What's next? Will women have to provide pharmacists with signed affidavits that they are not currently engaging in vaginal intercourse, so no risk of abortion here! How about our doctors pin notes to the inside of our coats detailing our medical treatment, and assuring the pharmacist that it's
really, really okay
for us to take the pill. Hey, isn't that the purpose of a FUCKING PRESCRIPTION?
It's really simple people—if you can't do your job as required, you don't deserve to keep your job. Allowing pharmacists to insinuate themselves into women's medical treatment is going to backfire. What makes these people think that women are going to say "Well, I couldn't get my EC, so I guess I'm just going to have to resign myself to being the best darn mommy in the whole wide world!" Rather than preventing abortion (which, need I reiterate, is what EC does), the fundies are going to drive women to clinics to have surgical abortions—which means killing the fetuses, as opposed to just ensuring that they don't happen in the first place.
Labels: Keep Your Rosaries Off My Ovaries
annamaria at 11:07 AM
5 Comments