6.30.2005
Damn you, Spain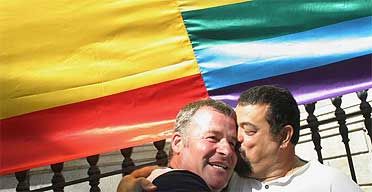 Sometimes being Italian sucks. Particularly when you can look across the Mediterranean Sea and gaze at Spain, only to realize that despite their funny accents, those Spaniards are seemingly doing everything in their power to make us look bad.
For example: Spain has just become the
fourth
nation in the world to
achieve marriage equality
. Fuckers. Italy spent this month upholding asinine restrictions on
in vitro fertilization
, further curtailing the rights of gay and lesbian families. Spain, on the other hand, has a Prime Minister who who says things like this:
"We are not the first, but I am sure we will not be the last," [Zapatero] told the chamber. "After us will come many countries, driven, ladies and gentlemen, by two unstoppable forces: freedom and equality."
Where the fuck does Spain get off being so damn cool?
Labels: LGBT
annamaria at 1:14 PM
8 Comments