7.07.2005
I have no time for idle whining.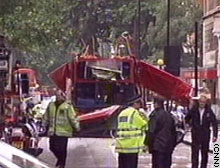 1) What is happening in London has my full attention right now.
2) Work is a bitch.
So, unfortunately, no new posts today -- unless I feel very inspired. And more no trying to have a debate with a
fake Rightie
trying to get under my and my readers' skin.
Sorry Joey-Joe. You aren't worth our time. Back to
NKOTB
for you.
person x at 10:49 AM
4 Comments