8.29.2005
Girls Rock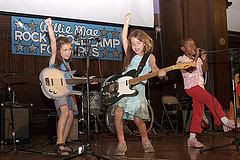 Ladies and Gentlemen, give it up for The Pink Slips! And all the other girl bands from the
Willie Mae Rock 'n' Roll Camp for Girls
. This is seriously the coolest thing ever. My niece Sadie, rockstar in the making, is 18-months old...Do you think this camp will be around in seven years? If so, I'm *so* signing her up!
annamaria at 11:10 AM
2 Comments
at Wednesday, August 31, 2005 12:26:00 PM Kurt said...

That is definitely very cool. My youngest daughter would've been the perfect candidate, but, alas, she will be too old to attend the Portland camp next year.
Kids today have so much cooler toys and stuff to do than when I was a kid, but then we had the whole world to explore. Most parents today would never let their kids leave the house in the morning and say, "Dinner is at 6" like my mom was able to. And that was from about 10 or 12 years old. Of course she knew we would be back for lunch (until we got older).

at Wednesday, August 31, 2005 1:40:00 PM said...