8.09.2005
Jen doesn't like me very much right now
Well, Jen didn't seem to like my recap of the series finale of Queer as Folk (what can I say, I didn't hate it!), and I've decided that our friendship is too important for us to be disagreeing about anything. So, I checked out
our friends at
LifeSite, and found that they are up to all kinds of wingnuttery, namely, crazy talk about abortion and the like. So, Jen, here's a post we can both agree on…
First, LifeSite links to a
list of abortion-supporting companies
, provided by Life Decisions International (Hey, doesn't "decisions" imply choice? Heathens!). Seems they want their readers to use this as a boycott list, but don't you think it would be so much more fun to use this as a list of companies to buy shit from? For instance, in need of an accountant? Try Ernst & Young. Need school products? Highsmith! How about drugs? Merck and Pfizer are your friends! Have money to invest? Wells Fargo and Wachovia donate money to Planned Parenthood. Clothing? Neiman Marcus, Levi Strauss, Kenneth Cole are all about killing the babies. How about over-priced organic foodstuffs? Whole Foods loves free range chicken more than your fetus!
Actually, the LDI site is a font of useful information. For example, the
Celebrity Watch
lists all kinds of actors, musicians and writers, etc. who endorse and/or support Planned Parenthood. Unfortunately, LDI uses the word "celebrity" rather loosely (LaVar Burton?), and shows their complete lack of the cool when saying things like this: "Nirvana (following the suicide death of the band's lead singer the group has worked under the name Foo Fighters)." Ummm…no. But they did manage to confirm what I have always suspected: Richard Belzer fucking rocks!
According to LDI President Douglas Scott, "This is not a Jesse Jackson boycott; make news for a day or two and then go away. Several corporations were boycott targets for many years before their chief executives finally realized we are relentless and will continue to let them know we disapprove of their philanthropic practices. The key is remaining diligent. If we give up, Planned Parenthood wins."
Actually, darling, the key is remaining "vigilant," not diligent. You see, while they rhyme, those are actually two totally different words.
But, that Jesse Jackson slam really pisses me off. Yeah, I know, the whole "Bud's a dud" campaign failed, but, um....how about South Africa? Remember that one? Considering Mandela's out of jail and apartheid's kind of over, I hardly consider Jackson's boycotts to be failures all around. Maybe we Planned Parenthood supporters should be glad that LDI's not running a "Jesse Jackson boycott."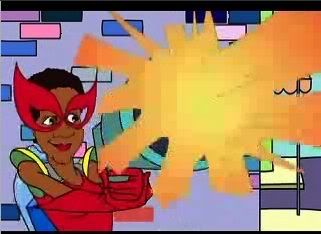 Then LifeSite gets even funnier, linking to Dawn Eden (isn't she the one that called
AmandaPanda
a Porn Liberal?), who takes Planned Parenthood to task for creating a
silly cartoon
. Seems Planned Parenthood Golden Gate's Superhero for Choice, Dianysis, likes to shoot the anti-choicers with her condom-dispensing laser gun, and once they are caught and neutralized (that nonoxynol-9 is a killer!), they
Poof!
disappear. Dawn seems to think they get all blowed up, but more likely they just, well, disappear...you know, which is what happens to all villains in comic books. Sheesh...it's a cartoon, no one really dies!
But Dawn has a point when she says that Planned Parenthood and its supporters wouldn't stand for an American Life League cartoon featuring an anti-choice superhero blowing up pro-choicers. But maybe that's because,
unlike anti-choice extremists
, we don't necessarily have a history of turning our violent fantasies into reality.
annamaria at 2:09 PM
6 Comments