9.02.2005
"George Bush does not care about black people."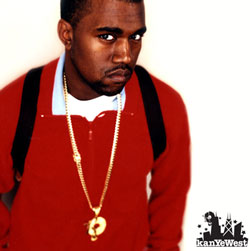 Amen, Kanye. Am I the only one surprised that
someone went off script
in the televised lovefest that was the NBC fundraising show entitled "Hugs and Denial: No Rapes Here!"
Kanye, in pleading for donations to the Red Cross (ICK) aside Mike Myers, ignores the teleprompter.
What makes me angry is the coverage of Kanye after the fact.
This shitty site
, for example, briefly discusses his comments in a handfuls of paragraphs, states they were out of place (where is the place?), follows with a lengthily diatribe painting the picture of the spoiled, rich, out-of-touch, simple nigger*.
I'm sorry. While GWB left his vacation slightly early, he did not leave
when the hurricane hit
. George Bush doesn't give a shit. He cared so little about the people of New Orleans that the seven minutes he sat around reading a book to kids on 9/11 actually looks
good
in comparison. Maybe he is just under the impression that the Republicans have the South covered anyway, and what are a few dead niggers* in the long run? They aren't going to vote for a Republican anyway.
Because that's who is traditionally left behind and unable to evacuate - the poor. And you know what? The poor in the South are black.
112,000 African-Americans in New Orleans make less that $8K/year. They aren't able to just jump into their SUVs and head off to their other homes that are out of the path of destruction.
Sure, there are a percentage of people who are looting and taking water-logged television sets, but there are also those who are looking for
food
or
drinkable water
or
a fucking pair of shoes
.
The best part, as I just saw on Real Time with Bill Maher? The captions that go along with photos of the looters.
Under a picture of a young black man, bags of groceries and soda in hand:
"After looting a local grocery store..."
Under a picture of a white couple, bags of groceries in hand:
"...make their way through water after finding bread at a local grocery store."
Virtually the same picture, but it's amazing what changing one word will do.
Now, what do we do? We in the North must sit, helpless, knowing that there is no structured plan for relief. Those people who struggled so much, busting their way out of flooding attics and out onto their roof to be plucked and taken to "safety," are now dying.
The survivors are now dying. And being raped. And being attacked. And shot.
What do we do? Are we to look down upon anyone, including Kanye, for voicing their frustrations when Bush cannot even leave his vacation because he doesn't want to be troubled?
The Democratic party is dead, as I have said. If we need to have someone like Kanye stand up and point out that shit is
not
going well -- well, fuck it. As long as someone is saying it.
*I hate the "n" word. But you know what? In discussing this situation it is appropriate. I can't help it.
person x at 11:22 PM
7 Comments