9.29.2005
Random News from the Mitten State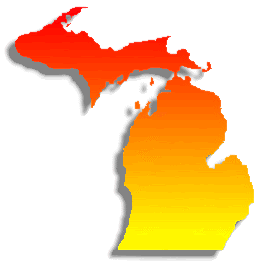 Well, I've learned my lesson. Never vote for guys
named
Carl
. But there is some good news coming out of Michigan these days. Thought I'd keep my fellow Michiganders updated.
First, U.S District Court Judge Denise Paige Hood
declared Michigan's so-called partial birth abortion law unconstitutional
. You might recall that the law failed to provide an exception to preserve the life and health of the mother, a stipulation that must be included in all abortion laws per the 2000
Stenberg
decision. Not surprisingly, the Michigan Catholic Conference is calling for Michigan Attorney General Mike Cox to appeal the decision.
And the hits keep coming for Mike Cox. His interpretation of Michigan Proposal 2, which amended the state constitution to prohibit same-sex marriage and/or civil unions, was struck down Ingham County Judge Joyce Dragunchuk. Cox insisted that the law prohibited universities and municipalities from providing benefits for same-sex partners of state and local government employees.
Judge Dragunchuk disagreed
, meaning that partners of employees in Detroit, Ann Arbor and Kalamazoo (among others) will be covered despite Proposal 2. Fundies are calling foul over this as well; according to Gary Glenn, president of the American Family Association of Michigan, Dragunchuk's ruling was unsurprising because she was "strongly endorsed by homosexual activists." She was also strongly endorsed by women's groups, due to her role in the implementation of a multi-agency domestic abuse task force in Ingham County. Wonder when the MRAs are going to chime in.
Labels: The Mitten
annamaria at 1:05 PM
5 Comments