9.20.2005
Universal truths about women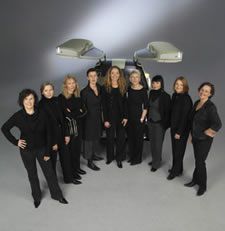 Women don't know shit about cars. It's true, that's why we leave all the gear-head stuff to our husbands, and focus solely on what exterior color will be least likely to clash with our favorite handbag and/or pair of shoes. Even I, faithful employee of one of the Big Three, care only about cars to the extent that I look cute behind the wheel of one. Pumping my own gasoline is about the extent of my interest in the "dirtier" aspects of vehicle maintenance.
Of course, you don't have to take my word for it, just ask
General Motors
:
For three days in late August, it was Girl's Day Out in Southern California, with massages, makeovers, golf lessons, cooking instructions -- even test drives.

Far from a showroom, General Motors Corp. invited women only -- and their girlfriends, daughters and moms -- to get behind the wheels of Hummers, Saabs and Saturns at a special marketing event.

[…]

The automaker provided makeup experts who performed makeovers, golf pros who offered tips to improve golf swings, and celebrity chefs who shared recipes and cooking tips. There also were free massages, tasty hors d'oeuvres, seminars about getting organized and a fashion show.

"We know women influence up to 85 percent of all (auto) purchases," said Cynthia Price, manager of GM's women's marketing initiative. "We decided to create an event that's a more relevant experience for women."
A more relevant experience for women? A fashion show?
Not surprisingly, if you really want to know how women feel about cars, you need to ask the Swedes. Last year, Volvo unveiled an experimental vehicle
designed by and for women
. It boasts such features as:
A low-emission, gasoline-hybrid engine

A low-maintenance engine which only requires an oil change every 50,000 miles. The vehicle's communications system sends a message to the dealership, automatically scheduling a maintenance appointment.

No gas cap allows for easier fueling.

Bumper sensors allowing for easier parking.

The washer fluid reservoir was moved closer to the fuel door, allowing the driver to both fuel up and refill washer fluid simultaneously.
Volvo made no reference to the exterior color. Although, I'm sure its pink.
---------
Edited to add: Rich points me to
this article
dispelling the myth of gender difference. It's an interesting read.
annamaria at 8:53 AM
0 Comments