11.09.2005
Los Angeles, I'm Yours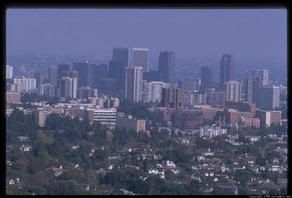 So, I'm one of
those
people, you know, the ones that buy themselves Christmas and birthday gifts? Well, my gift to myself this year is a trip to Los Angeles. How could I possibly turn down a roundtrip flight for only $200? I'd be a fool, people, a damn fool to stay in Detroit this winter when I can spend four fabulous days in Hollywood, sleeping on the air mattress that my dear friend Clinton was so kind of offer me.
While there, I'm treating myself to another gift: a Colin Meloy solo show at the El Rey Theatre. Yes, being the ridiculous fangirl that I am, I'm traveling across the continent to see Mr. Meloy since he didn't see fit to include a Detroit date on his tour. If I didn't love that cute little bespectacled man so much, I would be a pretty angry girl right now. According to
My Old Kentucky Blog
, the lovely Ms. Laura Veirs will be the supporting act. Fabulous!
In honor of my impending trip to Hell-A, here are a few Colin Meloy solo / Decemberists covers for your enjoyment:
Sister, I'm a Poet (Morrissey cover)
A snippet of Jonathan Richman's Pablo Picasso
I'm Sticking With You (Velvet Underground)
annamaria at 1:30 PM
2 Comments
at Wednesday, November 09, 2005 4:39:00 PM said...

Gotdamn. That Velvet Underground song is so good. I think it's only available on the special edition of Loaded though, so it's not easy to find. They used it on a car commercial over here a few years ago, actually, which is funny because the song is incredibly macabre ("Saw you hanging from a tree / and I made-believe it was me...") Almost as ridiculous as Cathedral City using Devendra Banhart's "At The Hop" to advertise cheese...

at Thursday, November 10, 2005 7:56:00 AM annamaria said...

Yeah, I think that is just another example of people taking a Lou Reed song and horribly misinterpreting it. Kind of like Perfect Day. If only that man would just write his depressing, drug-addicted songs in a minor key like a normal person, we wouldn't have this problem.

As an aside--how great is the end of that song, though? When Colin Meloy goes into his "scream like you're being swallowed by a whale" schtick? Makes me hate you for being able to see the Decemberists next week!