12.02.2005
Buy a Chevy, save my job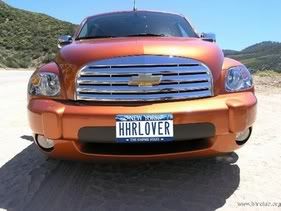 My employers have somehow managed to get a full 40 hours of work out of my this week, which is a first in the four years that I've worked here. I don't like it. They are supposed to pay me to do a few hours of work here and there, and spend the rest of my time blogging. But, alas, we've been swamped with work due to the year-end Chevy sales push. All day, all I hear from management is "
We're gonna beat Ford!
" It's grating and annoying, and makes me want to go out and buy a Toyota just to spite these people.
And buying a Toyota is looking like a better and better idea everyday. I just found out that my car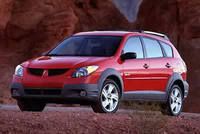 Look how cute it is!
is out of warranty for transmission repairs. Um...it's only three years old. Turns out that the transmission is only guaranteed for 36,000 miles, which I am far past. So, even through my car is exactly the same as the Toyota Matrix, built on the exact same line at the exact same plant and engineered by the exact same people, my warranty coverage is only half that of the Matrix. My next car is going to be a Prius, even if it costs me
my own
job!
Alright, enough complaining about cars (which really don't interest me at all, despite my auto industry job)--I'm late for the Friday Random Ten! I missed it last week, because of Thanksgiving, and now I'm late because I'm supposed to be selling Silverados or something. Somehow I managed to get three covers on this list without even trying, much to my own delight as it gave me an excuse to listen to Gram Parsons and Emmylou Harris covering Nazareth. Sweet.


Bring on the Dancing Horses (live) - The Decemberists

It's Tricky - Run-DMC

Underwear - The Magnetic Fields

Puzzle - Lou Barlow

Bad Reputation (live) - Death Cab For Cutie

Rhymes of Goodbye - Scott Walker

Shaktar Donetsk - Joe Strummer & The Mescaleros

I Will Internalize - Martha Wainwright

Love Hurts - Gram Parsons and Emmylou Harris

That's When I Reach for My Revolver - Mission of Burma

Your turn!
annamaria at 11:13 AM
2 Comments
at Friday, December 02, 2005 3:16:00 PM Kurt said...

2 o'clock and I'm the first one? Wow, looks like everyone is working hard or didn't bother to go in today.
I'm so excited to see a Grievous Angel tune here. Someone else has/likes this album! I really like this version of Love Hurts too.
Here's what iTunes told me to put up:
1)Jesus Leal - Lorenzo de Monteclaro
2)Killer Queen - Queen
3)Arabia - J Garcia & Dave Grisman
4)Cover - Engine Down
5)Dawg's Waltz - Garcia & Grisman
6)Mass Romantic - New Pornographers
7)On My Knees - Jaci Velasquez
8)Shaken - Rachel Lampa
9)Siempre Hace Frio - Linda Ronstadt
10)Woody Guthrie - Jimmy LaFave

at Saturday, December 03, 2005 1:31:00 PM said...

My belated Friday random 10:

1) Danielson Familie - Cutest Lil' Dragon
2) Elysian Fields - Duel With Cudgels
3) Cuff The Duke - Ballad Of A Lonely Construction Worker
4) Sir Eric Beyond - Democracy
5) Gentleman Reg - Give Me A Chance To Fall
6) Suburban Kids With Biblical Names - Funeral Face
7) Hockey Night - For Guys' Eyes Only
8) Mia Doi Todd - Mia Doi Todd - Casa Nova
9) Jose Gonzalez - Heartbeats
10) Edith Frost - Playmate