2.28.2006
Incontrovertable proof of the gay and lesbian agenda
This one's for you,
Kerri
: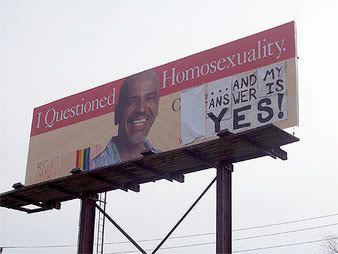 Frippy
tells the story of an Exodus International billboard that got a pretty little makeover from the good citizens of St. Louis.
I've said this before, but I seem to be in a redundant mood lately, so I'll say it again: Even if it is possible that one can change their sexuality from gay to straight, why should they? That is my biggest problem with these so-called "ex-gay" ministries--they offer no good reason for anyone to subvert their natural sexual orientation in favor of a new one. I'm straight, and I don't care how much indoctrination I receive at the hands of the homoprop™ artists of the world, nothing is going to change that. But even if I were to entertain the notion that I could, through the good work of the "ex-straight" ministries of the world, become a lesbian overnight, there is absolutely no reason why I should. It seems that the only reason that Exodus International and Love Won Out, et. al. have for changing one's sexual orientation is to avoid the very bigotry these groups espouse.
I take my marching orders (and the occassional link) from
Twisty
.
Labels: LGBT
annamaria at 7:14 AM
6 Comments