2.02.2006
Oops! I almost defended Wal-Mart!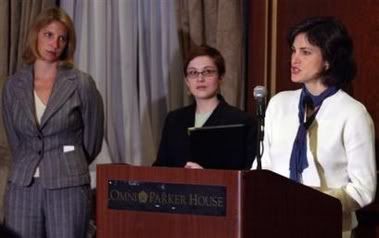 I had a conversation with my Republican brother a few weeks ago, and we were shocked to find out that we actually agreed about something; I mentioned that the media focus on Wal-Mart's business practices is often unfair in that it ignores the fact that other corporations employ similar methods. I doubt that Target employees fare much better than Wal-Mart's, but since Wal-Mart is the largest employer in the United States, the focus will always be on them. Republican Brother agreed. Of course, I couldn't content myself with stopping there, and we quickly
disagreed
about the role that a company like Wal-Mart should play in addressing (and redressing) pay inequality, lack of reliable and affordable health care, and worker's rights. It seems to me as the largest employer in the United States, Wal-Mart has a responsibility to do better than its competitors, to behave better than its competitors. Republican Brother disagreed, but, well, he's a Republican.
But my defense of Wal-Mart was pretty tepid, since I find them to be one of the most repugnant corporations on the planet--pretty difficult for a feminist like myself to justify spending any money in a place that is currently party to the largest sexual discrimination lawsuit in the history of the EEOC. So, when three Massachusetts women decided to
sue Wal-Mart for refusing to stock emergency contraception
I'll admit to feeling a little smug.
But, alas,
the fundies want to take me down a notch
: it seems that the plaintiffs are not little Davids triumphing over the evil, corporate Goliath--they worked with several abortion rights groups prior to filing suit. The implication is that the women specifically chose to take their prescriptions to Wal-Mart knowing that the stores did not carry EC, so that they would have grounds to file suit. Well, that's pretty bad, right? I can imagine that this sort of thing is frowned upon in civil rights circles. Imagine if, during the the era of segregation, someone specifically chose to break a law, by sitting in the whites-only section of a bus for example, to prove that the law was unjust and discriminatory. Ah, if only the wonderful folks at Lifesite were around to stop Rosa Parks...
Labels: Fundies Say The Darndest Things
annamaria at 8:36 PM
5 Comments