6.02.2006
Yay! Decemberists news for nerdcore fans everywhere.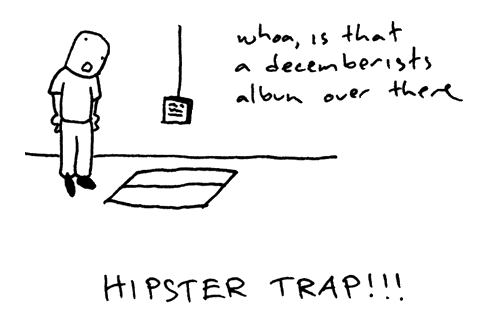 Matt Picasso
is my hero. Seriously. Not only does that kid have fabulous taste in music (and a willingness to share all kinds of fun mp3s), but he tags it correctly so that when I download said music, I don't have to waste time re-typing the file name to sate my obsessive compulsive tendencies (what is so hard about the "artist name - song title" format that it continues to confound mp3 bloggers?).
And
he has news about the
new Decemberists album
! Check it out:
This one's going to be really good, though. Undoubtedly the best thing we've done to date. And while that might smack of hyperbole ("didn't they say that about the last record?" you well may be thinking. . .) we can guarantee that it, at the very least, will be decidedly above average. And what's more, it's going to be called The Crane Wife. Quite a title, yes? There is a happy glut of songs to choose from — some 22 in all at last count — before it's wittled down to album-length, with a few of them clocking in at the >10 minute mark (always makes the label people happy).
I am a total nerd because I have October 3rd circled on my calendar already?
Labels: Men We Love, Pop Culture
annamaria at 9:50 PM
1 Comments
The date isn't circled on my calendar but I'm looking forward to hearing the new tunes. It's interesting to me how this band which works with the folk music of the British Isles seems to be for y'all what Fairport Convention and Richard Thompson and Sandy Denny were to an earlier age. A pretty well known band but one that will never hit the mainstream.