8.16.2006
We interrupt this brief work-related hiatus to bitch about work-related things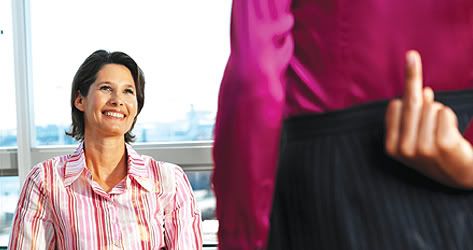 We are back to my job being a complete and total pain in my ass. I attended an all-morning, no breaks allowed meeting yesterday to discuss changes to one of our departmental programs—the program for which I am solely responsible in my office. I had the pleasure of sitting next to the woman whose streamlining suggestion included doing away with my job. Remind me to send her some silk flowers to go with the utterly fake smile I kept flashing at her during the meeting. Luckily, all three of my managers (Hello, top-heavy corporate structure!) were in attendance and promptly shot down her suggestions, so my job is safe and now comes with the added security of doing four times the amount of work than I currently do. Basically, my main responsibility is to coddle and cater to Major American Automotive Industry (MAAI) Executives, which has be interacting with various MAAI departments across the globe doing order fulfillment, logistics and ass-kissing. None of this will change; what will change is that my select group of 50 MAAI Executives has ballooned to 250—all of whom will demand personal attention as if they are the only person blessed with a corner office.

Here's a little bit of insight into my psyche: I have no respect for authority. It is a daily struggle to keep from telling people to fuck off, particularly when those people try to tell me what to do. I also don't like repetitive questions, of which I am guaranteed many when the new program rolls out in a few months. On top of that, I don't like being put in a position where I have to break rules or do someone a favor, unless I will personally benefit in some way. I'm a selfish bitch like that. I can foresee many attempts to get me to work around the system in the near future; couple this with repetitive requests and lack of respect for authority, and I'm seriously concerned that the addition of 200 new executives is going to break me. Or that I might break someone. All I need is one comment from my manager about my tits and the way that mere fabric sometimes has trouble containing them, and I think I might lose it.

So…resume is updated and job searching has commenced. Unfortunately, this is Michigan which has had one of (if not the) lowest job creation rates in the country. Since Person X has been beating off potential employers with a stick lately, maybe she can throw one my way. I'm emailing you the resume right now, girl.
Labels: Bitch Bitch Bitch
annamaria at 12:56 PM
8 Comments