7.29.2005
Friday Random 23??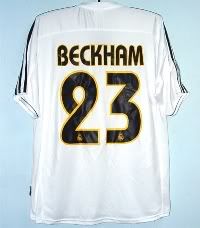 David Beckham, Source of Evil
So, yesterday Rich and I were discussing the
23 Enigma
, and now I keep seeing that damn number all over the place. It's really starting to piss me off. You know how when you have a song stuck in your head the only way to get rid of it is to sing it? I've decided to take that approach, and give you the Special Edition
Friday Random
23!


I Love a Man in a Uniform - Gang of Four

MTV Get Off the Air - MC Paul Barman

American Car - Mike Doughty

Romantic Rights - Death From Above 1979

Zebra - Magnetic Fields

Just Like Heaven - Dinosaur Jr.

Love Gets You Twisted - Graham Parker & The Rumour

L.S.F (Lost Souls Forever) - Kasabian

Le Freak - Chic

Lessons Learned from Rocky I to Rocky III - Cornershop

Brighter Than Sunshine - Aqualung

Slung-Lo - Erin McKeown

Legendary - Lou Barlow

Keep Your Hands to Yourself - Georgia Satellites

Twist the Knife - Neko Case & Her Boyfriends

Walking With A Ghost - Tegan & Sara

She's the One - World Party

Barrel of a Gun - Guster

Me & Giuliani Down By the Schoolyard - !!!

Live On - Sloan

It's Tricky - Run-DMC

Romeo & Juliet - Dire Straits

White Lines - Grandmaster Flash*

Wasn't that fun? Feel free to keep your lists at 10 songs...I don't think I can handle seeing anymore 23s!
-----------------
*I'm thinking that since song #23 is about cocaine, this just proves that anyone that believes in the 23 Enigma is a crackpot. [And since the previous sentence has exactly 23 words, it must be true.]
Labels: FRT
annamaria at 7:19 AM
6 Comments