9.09.2005
Friday Random Ten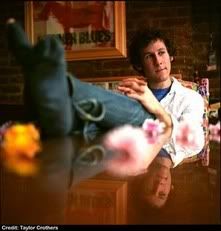 So, yeah, Jen's been busy blogging this week, while I've been busy trying to think of something interesting to say. Given my silence for the past seven days, you'd be right to conclude that all my effort was for naught. I'm thoroughly uninspired these days. Sorry.
At least it's Friday, which means, of course, it's time for musical randomness. Unfortunately, it seems that even my music is uninspired these days--how boring is this list??


Queen of the Savages - The Magnetic Fields

We're All in This Together - Ben Lee

Don't Be a Dick - Panthers

Admit It - Say Anything

Foolish Love - Rufus Wainwright

John Walker's Blues - Steve Earle

There's No Fucking Rules Dude - !!!

Don't Make Waves - The Gossip

Black Coffee In Bed (live) - Squeeze with Ben Folds

The War Criminal Rises and Speaks - Okkervil River

Your turn!
Labels: FRT
annamaria at 8:55 AM
4 Comments