10.21.2005
Friday Random Ten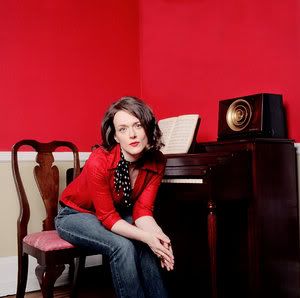 I need to vent, and this seems as good a place as any. As you know, I had surgery on Monday, and yet I dragged my ass to work on Tuesday because I couldn't deal with the fact that I took time off and there was shit to be done, and my mother's hovering was driving me crazy. I have a co-worker, however, who lacks a similar work ethic. Allow me to explain, first of all, that I use the term co-worker loosely, as "co" implies peer, and "worker" implies that one actually gets their ass to the office on a regular basis. "Co-worker" is known around the office (unbeknownst to her, of course) as Psycho, due to her tendency to interrupt any and all conversations by demanding to know if we are talking about her. Perhaps this doesn't make her crazy, as nine times out of ten we actually
are
talking about her. She also gets angry when two or more people from the office go to lunch together, and don't issue her an invitation. Psycho failed to show up to work yesterday and today because she, and I quote, "has a tummy ache." In the year that she has been working at this office, she hasn't
once
cashed a full 80-hour paycheck.
I had fucking surgery. There are stitches in my tit, and the drugs have worn off. I'm sore and I'm cranky and I'm at work.
So, any advice as to how to deal with Psycho co-workers would be much appreciated, as I'm afraid the next time I see her I'm going to clock her. And my biggest fear is that none of my other co-workers will stop me!
Alright, enough venting, time for some music. Very indie-rock-centric again this week, with the exception of the fabulous Sam Cooke. I also had to severely edit the list this week, since I went on a Decemberists downloading spree, and every other song was one of theirs. Here you go:


Jacqueline - Franz Ferdinand

Another Saturday Night - Sam Cooke

Happy Birthday - Clem Snide

Odalisque - The Decemberists

Changes Are No Good - The Stills

Your Misfortune - Mike Doughty

Indoor Fireworks - Laura Cantrell

Your Cover's Blown - Belle and Sebastian

Puzzle - Lou Barlow

Cripple and the Starfish - Antony and the Johnsons

Your turn!
Labels: FRT
annamaria at 9:36 AM
6 Comments