10.28.2005
Friday Random Ten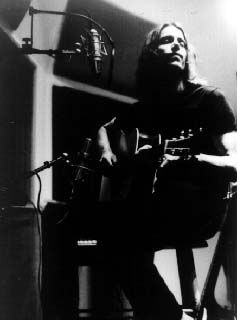 So...Psycho finally graced us with her presence on Tuesday. Claims that her tummy ache was actually the flu, which somehow morphed into sinusitis. We all bit our tongues and didn't point out that mid-October is hardly flu season in Michigan, and a sinus infection is hardly a reason to miss three days of work. Then we called her Psycho behind her back, and made lots of bird flu jokes. Knowing our luck, we're all going to come down with said avian affliction, and Psycho will manage to escape the epidemic. I hate her.
But you know who I don't hate? Kurt. And because I don't hate him, I'm going to highlight a question he asked in the comments of another post, in the hopes that one of our dear readers can answer it for him. Kurt asks:
Annamaria, I'm not sure if it was you or jen, but on a past FRT there was a song called Moonflower by After Midnight (I think). It's a great song, but I haven't found what CD it is from. Do you know or remember?
I have no idea what the answer to this question is. Even a google search provided no clues. So, if you are the person that listed this song (and I'm assuming it's Rich, because that sounds like him!) please enlighten Kurt for us, would you?
Another thing I don't hate? Music. Particularly random music. So, here's my ten, with album titles in case anyone is interested:


Breath Me - Sia (Colour the Small One)

Blue Monday - New Order (Power, Corruption & Lies)

Shiny - The Decemberists (5 Songs EP)

His Truth is Marching On - Mike Doughty (Haughty Melodic)

Talking in the Dark - Elvis Costello (Ten Bloody Marys & Ten How's Your Fathers)

Everyday - Rogue Wave (Descended Like Vultures)

Into the Dark - Ben Lee (Awake is the New Sleep)

Smokers - Old 97's (Drag It Up)

Detroit or Buffalo - Neal Casal (Fade Away Diamond Time)

Goodbye Girl - Squeeze (Cool for Cats)

Your turn! (Album titles optional, of course!)
Labels: FRT
annamaria at 9:31 AM
3 Comments
at Friday, October 28, 2005 12:07:00 PM said...

Wasn't me, guv'nor! Can't say that I've even heard of it, either. Sorry!

Anyway...

1) Bill Fay - Be Not So Fearful
2) Al Green - I Want To Hold Your Hand
3) Papas Fritas - Sing About Me
4) Jim Guthrie - Ain't Got No / I Got Life
5) The Cardigans - I Need Some Fine Wine And You, You Need To Be Nicer
6) Bettye LaVette - The High Road
7) Sparks - Waterproof
8) Built To Spill - In Your Mind
9) The Decemberists - The Mariner's Revenge Song
10) Wolf Parade - You Are A Runner And I Am My Father's Son

at Friday, October 28, 2005 2:44:00 PM ID said...

Ugh for friday. Fucking White Sox.

10. Ice Cube - Steady Mobbin'
9. What More Can I Say - DJ Danger Mouse
8. Five Against One - The Doors
7. Players - Slum Village
6. One in a Million - Aaliyah
5. Space Invaders are Smoking Grass - I-F
4. Come Dancing - The Kinks
3. Lets Get It On - Marvin Gaye
2. Smoking the Edge - Dabrye
1. Southern Hospitality - Ludacris

at Sunday, October 30, 2005 1:18:00 AM Kurt said...

Thanks for the help, folks. For all I know, it may have come off a Webjay playlist (which seems to have disappeared. Webjay I mean).
Inventory was Friday, so here's my Saturday Random Ten from the home box:
1-Wanksta - 50 Cent
2-Baby Boy - Beyonce & Sean Paul
3-What Is It To Burn - Finch
4-Electric - Hands Down
5-Its Your Birthday - 50 Cent
6-What's the Dilio - Mest
7-Girls They Love Us - Youngbloodz
8-I'm Down - Good Charlotte
9-All That You Dream - Little Feat
10-99 Red Balloons - Goldfinger
Can you tell that my 17 year old daughter's box is included in my library?