11.04.2005
Friday Random Ten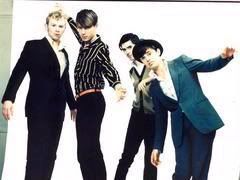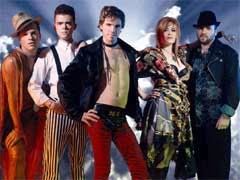 The two most fashionable bands in the world
Ugh. It's only 10 a.m. here in beautiful Pontiac, Michigan* and I'm already ready to call it a day. Not only do I have a month-end logistics analysis due in, oh, 45 minutes, but I had to sit through a boring meeting about why the terrorists are forcing us to wear security badges at work. Seriously. Then I got to have a lovely chat with someone from New Zealand when I called the tech help desk because my color printer--you know, the one that I need in order to complete the month-end logistics analysis--decided that today was a good day to pull a Psycho and feign illness. Damn you, Printer! I've checked dozens of times and you do not have a fucking paper jam!
The help desk guy was nice, though. This is the first time I've actually talked to a Kiwi at the help desk. Last week, I spoke with a lovely man from South Africa--very cool dulcet tones from that one. I was almost sad when he fixed my technical problems so quickly. The New Zealander was kind enough to stretch out the conversation for a good 40 minutes, wherein he asked me how far Pontiac is from Ohio and Indiana for seemingly no good reason. He also inquired about the weather and my plans for the weekend. Not sure if he was planning on hopping on a plane just in case I needed a date this weekend.
So far, the only good thing about today is that I can share with you, dear readers, this fabulous mp3 that I (okay, it was Rich) found yesterday. Scissor Sisters and Franz Ferdinand cover my favorite Bowie song? This just bolsters my firmly held belief that in a parallel universe I, Annamaria, am actually Ana Matronic.


Jig of Life - Kate Bush

Chewing Gum - Annie

Entertain - Sleater Kinney

NY Groove - Ace Frehley

Do You Realize? (live in Detroit!) - Beck

10:1 - Rogue Wave

She's the One - World Party

New York, New York - Ryan Adams

The Lady From Reims - Reclinerland (f. Colin Meloy)

Your Turn! And don't forget to check out that song!
-----------------
*Michiganders will immediately recognize the sarcasm here. Non-Michiganders will be advised to avoid Pontiac at all costs.
Labels: FRT
annamaria at 10:06 AM
4 Comments