11.11.2005
Friday Random Ten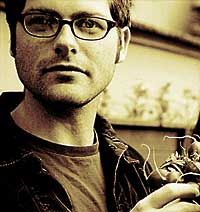 Well, it's been a surprisingly good week! Apparently, management had a conversation with Psycho, and she's been behaving as of late. No random absences or excessive tardies. Her attitude is decent. I'm almost sorry to see her shape up so quickly, as it means that she in all likelihood won't be fired. Damn. I'm keeping my fingers crossed, and hoping that this attitude shift is permanent, because if she regresses I'm going to have to hurt her.
Saw my oncologist on Wednesday. I don't think I'll ever get used to the fact that I now have an oncologist. Shortest doctor visit I've ever had; she looked at my incision, declared it was healing well and that all of my test results were normal. This took all of three minutes. Fairly anticlimactic end to my breast ordeal.
I'm off to beautiful Saginaw tonight after work. My two oldest nieces are making their stage debut in their middle school production of
Aladdin
. The eleven-year-old will be playing one of the townspeople, while her thirteen-year-old sister will be Jafar's sidekick Iago. Both are mortified that the entire family is making the hour-and-a-half trek to Saginaw to see them. Teenagers.
The random ten this week rocks, if I may say so myself. Not only because my computer seems to be aware of my upcoming trip to LA (there are two Colin Meloy tracks on here, one with the Decemberists, and the other with his former band Tarkio), but also because of the first song on the list. Toto Cutungo's
L'Italiano
is one of those songs that you hear at every Italian wedding, and inspires some great drunken singalongs. And it features some great lines about "new socks in your top drawer" and "not being afraid of shaving cream" which sound so much lovelier when sung in Italian.


L'Italiano - Toto Cutugno

Dum Dum Club - Joe Strummer

Off the Record - My Morning Jacket

Super Tuesday - The Shazam

Jews for Jesus Blues - Clem Snide

Damn Damn Leash - Be Your Own PET

It's My Life - Talk Talk

The Laws Have Changed - The New Pornographers

Nobody's Home (live) - The Decemberists

Neapolitan Bridesmaid - Tarkio

Your turn!
Labels: FRT
annamaria at 10:20 AM
5 Comments