12.09.2005
Do praying menaces devour their mates, too?
Shelby Township used to be such a lovely place to live...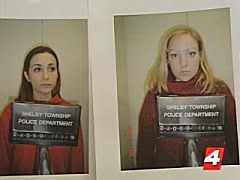 Two Washington Township women are being called praying menaces," not because of their praying, but because of where they choose to pray.

Brittany Lee Jordan, 25, and Rachael Sue Jacob, 27, are in jail after not being able to meet a bond of $5,000.

The two women told police that they were doing exactly what God told them to do: lie down on a mat and pray at a BP gas station and also in front of a district court.

"She just laid there and said she was waiting for God's answer," said Megan Freeland, a cashier at the BP, at 26 Mile Road and Van Dyke, in Shelby Township.

The two local women were ticketed and arrested for disturbing the peace. The cashier said [Jordan] lay on the mat for three hours, while Jacob came in and out.

When they appeared in court, the women were given a $1,000 bond and ordered by Magistrate Michael Osaer to refrain from blocking access to public buildings, according to the Macomb Daily. Osaer said the pair could pray where they wanted, but could not impede other people, according to the newspaper.

But as they left the courthouse, they prayed again. This time they blocked the entrance to the courthouse. One witness said people had to "literally climb over the ladies to enter the courthouse."

They were arrested and taken back to Osaer's courtroom. He raised the bond to $5,000. The women were unable to pay the bond and were sent to jail.
I must stop at that gas station at least once a week, but of course I miss the one day when crazy ladies are blocking the doors. Damn.
You gotta wonder about a god that tells people to lie down on dirty floors for hours at a time, and then never even bothers to reply to your prayers. I wonder when they are going to get booked on The O'Reilly Factor or Hannity and Colmes a la the
Novi Nativity Family
. These days, it seems that false peity justifies every kind of stupidity.
Here's Rich's take on the situation (via email):
Oh my god, what a pair of mouth-breathing chuckleheads. I mean, what the hell is wrong with these people?! Do they think Jebus is going to give them extra credit for that shit?

America has gone crazy!
Don't Brits have the best insults?
Of course, not all Shelby Township Christians are batshit crazy:
A small group of religious activists protested outside U.S. Rep. Candice Miller's Shelby Township district office Thursday, decrying the congresswoman's support for "immoral" budget cuts that they say will hurt the poor and defy Christian values.
Nice to know that while some "Christians" are playing floor mat, others are actually looking out for those whose interests usually get trampled on.
annamaria at 1:45 PM
4 Comments