12.12.2005
Why, Colin Meloy, why??
Apparently my
Colin Meloy tour of LA
will now include a stop at the infamous Capitol Records building...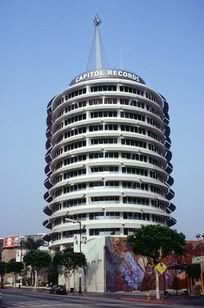 Confirming a rumor that has been floating around the indie world for weeks, Decemberists frontman Colin Meloy revealed to Pitchfork this weekend that his band has indeed signed to Capitol Records. The deal follows a successful run with the beloved independent label Kill Rock Stars, which culminated in the release of the Decemberists' third (and best) album, Picaresque, earlier this year.

"The idea of reaching a wider audience has become really attractive," Meloy said. "It just felt like we had tapped out the resources of Kill Rock Stars. We could have stayed on that label until the end of time, putting out proper Decemberists records that sold x amount of copies. But there was a general thought after this last tour that the music and the stage show were evolving. We felt like there was an opportunity for something bigger."
Look, I don't begrudge any band the right to sign with a major label, and I'll be the last person calling my beloved Decemberists sell outs for signing with Capitol, but I can't help but feel this overwhelming sense of dread. There is no way in hell Capitol is going to let this band record
19 minute singles based on Irish folklore
, and it is exactly that kind of artistic freedom that turned The Decemberists from your typical Portland indie rock outfit to a band that unabashedly uses a hurdy gurdy and records songs about consumptive paupers. You know, all of the things that I
love
about this band!
Damn you, Colin Meloy! You'd better fucking prove me wrong on this!
In good news, Meloy's going to be a daddy! Congratulations to both Colin and his supremely adorable girlfriend, artist
Carson Ellis
.
And check out a new-ish Decemberists track
Like a Lion
Labels: Men We Love
annamaria at 1:35 PM
2 Comments
at Monday, December 12, 2005 2:47:00 PM said...

at Monday, December 12, 2005 3:28:00 PM annamaria said...