12.09.2005
Friday Random Ten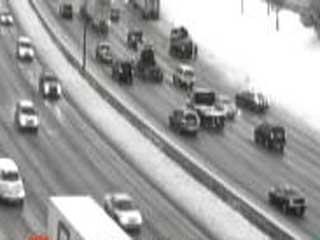 I really hate snow
. You'd think having lived in Michigan for nearly 28 years (5 spent in Kalamazoo, where 10-12 in snowfalls are the norm) I'd be used to this shit. I'm not. Everytime it snows, I freak out and drive like an 80-year-old grandmother. That's a lie; 80-year-old grandmothers pass me on the highway.
But I was a trooper today, and I made it to work without any major catastrophes (despite getting my little car stuck in the snow three times before even leaving my subdivision). I think I deserve a medal or something...
So, here's your Friday Random Ten, I hate snow edition:


The Pledge - Brendan Benson

The Big Light - Elvis Costello

Dirty Old Town - Ted Leo & The Pharmacists

Blue You - The Magnetic Fields

Brooklyn Is Burning - Head Automatica

For Today I Am a Boy - Antony & The Johnsons

Hearts - Bonnie 'Prince' Billy

Naked As We Came - Iron & Wine

Drunken Tears - Quasi

Gimme Indie Rock - Sebadoh

Your turn!
Labels: FRT
annamaria at 11:52 AM
4 Comments