1.27.2006
FRT: AG Hearts EC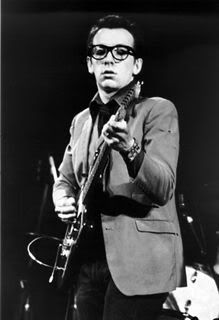 Please excuse my light posting these past couple of weeks. I spent last week getting ready for my trip to LA, and spent this week catching up on work and sleep after LA. And I managed to get my right index finger mangled by my car door the other day. It's ugly and painful, and the massive amount of gauze and tape my doctor put on it is making it really difficult to type. The good news is that nothing is broken; the bad news is that the latex finger covering my doctor is forcing me to wear makes it look like I'm constantly ready to give someone a prostate exam.
I'm not sure what's up with my random ten this week, because it's not even remotely random--there are four Elvis Costello songs on here! Granted, three are covers, but a 40% EC list is excessive even for me. Also, I am including a link to the Eef Barzelay song that's #1 on my list...listen to the first verse and you'll understand why it's my new favorite song.


Ballad of Bitter Honey - Eef Barzelay (MOKB)

Riot Act - Elvis Costello & The Attractions

Bad Girl - Detroit Cobras

Girls Talk - Dave Edmunds

Joanna - Scott Walker

Stop! - The Bens

Try a Little Tenderness - Otis Redding

Indoor Fireworks - Laura Cantrell

Clementine (Live @ KEXP) - Colin Meloy

Hidden Shame - Johnny Cash

Your turn!
Labels: FRT
annamaria at 9:25 AM
6 Comments