1.30.2006
I blame the Scots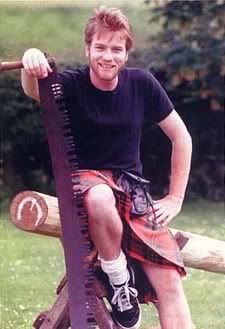 Oh, the fundies are going to be in an uproar about this...
A male high school student can wear a skirt to school after the American Civil Liberties Union reached an agreement with school officials.

[…]

Coviello first wore a costume-style dress but high school officials told him to go home and change. The district's superintendent then advised the Coviello to purchase everyday dresses and skirts at a retail store, which Coviello did, the ACLU said.

But after a few days, he was sent home with a note from his principal saying if he wore a dress, kilt or skirt, he could no longer attend school.
Oh dear! What's next, girls wearing trousers? Oh, wait...
The
Concerned Women for Patriarchy America
have already weighed in, proclaiming the decision another win for the gender confusionists—you know, the same people that created that
Barbie website
. What they have missed, of course, is that the student, Michael Coviello, was only wearing the skirt to protest the school's no-shorts policy. You see, he's not a tranny in the making, he's the Che of the Great Short Pants Revolution. The
Avec Culottes
, if you will.
Seriously, though, I'm looking for a little insight here, and maybe our dear BOMT readers can shed some light on this issue for me. The CWFA seems to think that men wearing skirts will somehow emasculate them, or at the very least, generate some kind of gender confusion which obfuscates the very real differences between men and women. My question is this: What is inherently
female
about a skirt? Is there something about the vulva that requires airing? Let's assume that I see Mr. Coviello walking down the street wearing a skirt, what is the greater social implication of my confusing him with a woman? Does this cause some kind ripple in the space-time continuum? Will the world as we know it end? It's winter in Michigan, and despite an unseasonably warm January, I wear pants everyday. I've never been mistaken for a man. Granted, I have long hair, jangly earrings and tits, so those are pretty good indications that I am a woman, but I'm willing to bet that Mr. Coviello wasn't pairing his protest-skirt with a lacy blouse and heels. So, enlighten me my non-radical feminist friends, 'cause frankly I've read too much gender theory to even pretend to understand why this is even an issue*.
--------------------
*I'm going to clarify this: as a radical feminist who has a read a good deal of gender theory,
I
understand what the big deal is—the gender binary, and its conflation with biological sex, is a necessary underpinning of a patriarchal system. As long as we believe that men and women are inherently different (in ways other than basic reproductive biology) and that gender is a natural and normal occurrence which
always
correlates with biology, then we can continue to justify gender discrimination and oppression. Makes sense, right? However, I'm pretty sure that your garden variety misogynist/homophobe doesn't tread too far into the theoretical waters gender politics. What I want to know is, why does your average guy/gal on the street freak out at the notion that a man might wear a skirt? And how do they avoid cognitive dissonance when they ignore women in trousers? What do they see as the inevitable consequence of ignoring gender mores? I see liberation, but I have a feeling that's not the popular opinion.
Labels: Fundies Say The Darndest Things
annamaria at 1:08 PM
6 Comments