2.03.2006
Friday Random Ten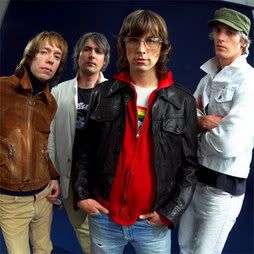 Do you hear that sound? It's a kind of dull thump followed by an exasperated sigh. That's the sound of my head repeatedly hitting my desk as I try to alleviate some of the stress caused by my co-workers today. My office is currently testing a new inventory system and for some reason I have been designated the office trainer. I have one week to make these people understand the mechanics of a drop down box, and frankly I'm not sure if I am going to make it. I'm fully expecting at some point to just scream "For fuck's sake, people! Just click on the goddamned box and pick a fucking option! Any option! I don't care!" Maybe I can frighten them into compliance, but I have a feeling all I am going to do is bring on my own heart attack at the tender age of 28. So, be patient with me, dear friends, because my stress has reached a critical level, and this is one of my only outlets to vent.
Of course, my mp3 collection must have noticed my fragile state, since it randomly generated some pretty poptastic songs for me to listen to today. If Sloan can't make me happy, not much will...


Star Sign - Teenage Fanclub

You're No Rock & Roll Fun - Sleater Kinney

G Turns to D - Sloan

Wild Horses (live) - Iron & Wine and Calexico

Sally McLennane - The Pogues

Big Sister's Clothes/Stand Down Margaret - Elvis Costello

Jackson Cannery - Ben Folds Five

Legendary - Lou Barlow

World Before Columbus - Suzanne Vega

Shine a Light - Wolf Parade

Your turn!
Labels: FRT
annamaria at 10:03 AM
2 Comments
at Friday, February 03, 2006 2:24:00 PM Kurt said...

I am so happy it is Friday! But I am going to break with the FRT rules and instead do an homage to FRT and Webjay.
Here's an alphabetical list of some of the songs I have been turned onto this year because you and the other contributors:
1- Antony & the Johnsons - Cripple and the Starfis
2- Dave Derby - Aquarius/Let the Sun Shine In
3- Decemberists - The Soldiering Life (and other songs)
4- The Grooveblaster - In 1977 (When Josie Comes Home
5- Metrovan - Waltz of the Noctambulist
6- Portishead - It Could Be Sweet (and anything else off Dummy)
7- The Radiators - New Speedway Boogie
8- Santana - Moonflower (rediscovered through Webjay)
9- Scarecrow Collection - Hey My Firend
10- Topaz - Emperor

at Friday, February 03, 2006 2:33:00 PM ID said...

Participation is fun...

10. Its No Good - Depeche Mode
9. The Drugs Dont Work - The Verve
8. Love Bizzare - Shiela E
7. Superman's Dead - Our Lady Peace
6. Say My Name - DJ Assault
5. Seal Killa - C-Rayz Walz
4. Milkman - Aphex Twin
3. Celebration - Kanye West
2. This Monkeys Gone To Heaven - Pixies
1. I Feel For You - Prince