2.17.2006
Friday Random Ten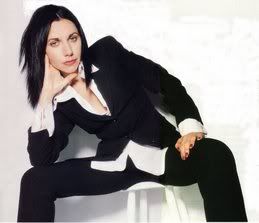 I've noticed a bit of increased traffic from our new friends over at the cleverly named
Clever Titles Are So Last Summer
, and since the Friday Random Ten demands participation, I thought I'd give everyone a refresher on the rules:


Fire up your favorite digital media player

Set to "shuffle"

List the first ten songs it plays. No skipping songs that are embarrassing, since that takes all the fun out of it.

Post your FRT in the comments as well as your own blog if you are so inclined.

Here's my list, which unfortunately isn't very random--mostly indie rock, with a pinch of Prince to liven things up. Except, of course, it's
Diamonds and Pearls
which isn't very lively. In fact, I don't even
like
that song. Of the hundreds of Prince songs I own, why is that the only one that ever shows up on this thing?


King of Carrot Flowers Pt.1 (live) - Neutral Milk Hotel

Confused - Lou Barlow

That Was My Veil - PJ Harvey & John Parrish

Small Town Shit - Hotel Lights

Little Savage - Elvis Costello & The Attractions

Diamonds and Pearls - Prince

Road to Rock N'Roll - Joe Strummer & The Mescaleros

Tiny Spark - Brendan Benson

Philosophy - Ben Folds Five

Life's What You Make It - Talk Talk

Your turn!
Labels: FRT
annamaria at 7:35 AM
7 Comments