8.11.2006
Friday Random Ten: Still with Commentary!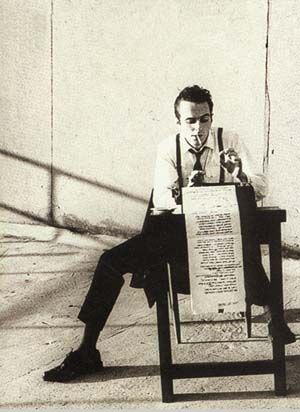 The ghetto prince of gutter poets
Hooray for Fridays! This has been the week from hell. I've had a headache for the past three days, everyone is annoying me, and I just found out that the office that our department is moving to has a no open-toed or heels over one inch shoes policy. What the fuck is that? Are they afraid I'm going to drop a file folder on my big toe and make a worker's comp claim? Maybe my delicate little ankles will turn on the tacky indoor/outdoor carpeting if I wear the same three-inch heels I've been wearing without incident for ten years. Looking through my closet, I realized that I own exactly two pairs of closed-toe shoes and one pair of flats. Usually, an excuse to go shoe shopping is a boon, but the thought of buying loafers is just too unbearable. I'm not sorry to admit that my first thought was that I need to update my resume, because I simply cannot work under these conditions.

I didn't have time to upload mp3s for all the songs on the FRT today. If I'm feeling ambitious this evening, I'll update and include some songs for you all to listen to. In the meantime, enjoy my inane ramblings and pointless commentary on these fine tracks:
Sexy Back - Justin Timberlake
I refuse to be embarassed by my love of this song. Not the even slightest inkling of shame or remorse.


Won't U Please B Nice - Nellie McKay
I like to think of this as the Concerned Women for America love song; no one hates men more than anti-feminists.


Use It - The New Pornographers
As if I need another reason to move to Canada. The plan has always been Toronto, but if moving to Vancouver means that I might get to mingle with Carl Newman and the lovely Neko Case, I'll consider it.


Red, Red Wine - Neil Diamond
When I picked up Rich from the airport last month, the first thing we did was put Neil Diamond's Greatest Hits in my car's CD player. I've already got more than enough reasons to hate the (post-Clash) British white boy raggae movement, but listening to the original version of this song makes me want to hunt down all the members of Ub40 and skin them alive.


Tyrone - My Morning Jacket.
Oh, this song. I was obsessed with the Erykah Badu original in college, and surprisingly, I don't hate this version. I was prepared to hate it, and was actually a little disappointed at how much I didn't hate it. It's a little karaoke-like in its faithfulness to the original, but it's still a little dirty and irreverant, so I'll over look that.


The Tain - The Decemberists
This song might actually be longer than the other nine songs on this list combined. I'm totally at a loss as to how to comment on this, there's just too much going on to discuss it in four sentences or less. I'll just say that when Colin Meloy sings, "She's a salty little pisser, with your cock in her kisser," I blush for him.


Don't Feel Like Dancing - The Scissor Sisters
Oh, the irony, it's killing me. Get it, it's a dance song, and it's called Don't Feel Like Dancing? If I didn't have a massive girl crush on Ana Matronic (our names are so similar--it's fate!), my head would hurt from all the eye-rolling. I'll forgive the title since the beat makes me want to shake my ass. ;)


I'm So Bored With the U.S.A. - The Clash
It's funny anecdote time! Apparently, Mick Jones wrote a version of this song called I'm So Bored With You about his ex-girlfriend; Joe Strummer, believing that break-up songs had no place in punk rock, re-styled it as an anti-American anthem.


Redemption Song - Johnny Cash and Joe Strummer
I'd write something here, but I'm too busy crying.


Signing Emo - MC Lars
The woeful tale of Marty, a major label scout, and his hapless quest to capitalize on stupid teenagers who actually like emo. I will forever love MC Lars for appropriating the name Hearts That Hate before an actual emo band could use it.

Your turn! Also, feel free to share the ludicrous wardrobe-related regulations from your corporate overlords to make me feel better.

Labels: FRT
annamaria at 9:07 AM
6 Comments