8.05.2005
Friday Random Ten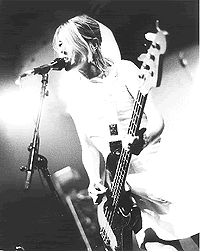 I'm convinced that
this post
by Ian should be required reading for all parents. You see, Ian, Jen and I are probably the most child-hating people on the planet. Well, perhaps child-hating is a bit harsh. We mean your children no harm, we would just like for you to keep them away from us. Unless we want to play with them, in which case we can toss a ball or run in circles or whatever it is that little kids like to do, but at the sight of tears or dirty diapers, please expect your children to be returned to you. Please see the
rant
from earlier this week about naming your children, and you'll see that I'm in a decidedly anti-parental mood this week. Must be the birth control pills kicking in.
Needless to say, I have a wonderful relationship with my nine nieces and nephews.
Anyway, that has nothing to do with the topic at hand, just a digression that I couldn't ignore. What really matters is the
Friday Random Ten
. I tried to come up with a witty title this week, and but the best I could do is "I swear I will send those damn CDs out this weekend!" edition. It will have to do. Otherwise
Kerri
is going to kick my ass.


Feeling Called Love - Pulp

Kiss Me Like You Mean It - Magnetic Fields

Mary - Lou Barlow

Superstar - Sonic Youth

Ring of Fire - Johnny Cash

Raindrop - The Reindeer Section

Scenario - A Tribe Called Quest

My Sharona - The Knack

Lullaby - The Cure

Love in a Trashcan - The Raveonettes

Your turn!
Labels: FRT
annamaria at 8:20 AM
7 Comments