12.16.2005
Friday Random Ten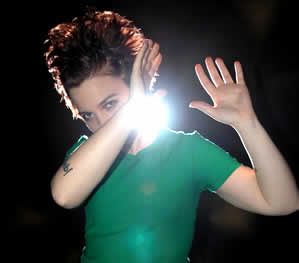 Ain't she grand?*
So, it occurred to me that I haven't complained about Psycho in a while. Turns out, whatever my manager said to her about her tardiness, absenteeism and general psychotic attitude has worked. She's been pretty bearable of late. Of course, because December is the busiest month of the year in the auto industry, we had to hire a temp to help out in the office. She's been dubbed Psycho Part Two. She's doesn't have the delicious blend of narcisism and paranoia (with a heaping helping of hysteria on the side) that marked the original Psycho flavor, but she comes with all kinds of psychological baggage of her own! It's a good thing she's only here for another week, because two Psychos would be enough to send
me
to therapy.
I've decided that I need to do something about paring down my mp3 collection. Partly because I'm going to need a second hard drive soon just to house music, but also because I seem incapable of doing a Friday Random Ten that doesn't include at least one Magnetic Fields song. Damn you
69 Love Songs
!


Borderline - Chris Mills

Flyswatter - Eels

Abigail, Belle of Kilronan - The Magnetic Fields

fake palindromes - Andrew Bird

Wierdo - The Charlatans

Slung-Lo - Erin McKeown

Date with the Night (live) - Yeah Yeah Yeahs

Generals and Majors - XTC

Madeline and Nine - Mike Doughty

Me, Myself and I - De La Soul

Your turn!
UPDATE: The
praying menaces
have been
sentenced to one-year probation
, but claim they will continue to block gas station entrances if god tells them to. Fantastic.
------------------
*I apologize for that
terrible pun
.
Labels: FRT
annamaria at 10:41 AM
2 Comments
at Friday, December 16, 2005 1:55:00 PM Kurt said...

Such a sweet day! Hey jen, I got an e-mail about something called Mate Match that is played on WBAM in Chicago. The story was about a woman who won a trip to Disney World for being very honest in answering questions. Is this real or an internet hoax? Do you know what I'm talking about?

Here's my list:
1)On the Road to Rock and Roll - Jimmy Lafave
2)Drink to Me Babe Then - A.C. Newman
3)World So Corrupt - Ziggy Marley
4)Weapon of Choice - Fat Boy Slim
5)Stomping Grounds - Bela Fleck and the Flecktones
6) Streamlined Cannonball - Jerry Garcia
7)I'm A Believer - The Monkeys
8)Old Man - Neil Young
9)Balboa Park - Bruce Springsteen (PBS ran an incredible concert of him & the E St. band filmed in London 1975)
10) Momma, Where's My Daddy? - Keb'Mo'

at Friday, December 16, 2005 3:25:00 PM said...

Erin McKeown is totally adorable.

My list:

1) Clap Your Hands Say Yeah - Satan Said Dance (Live)
2) Beck - Scarecrow (El-P Mix)
3) Mike Wexler - I'd Like To Solve The Puzzle
4) Ben Folds - You To Thank
5) Feist - Lonely Lonely
6) Elbow - Mexican Standoff
7) XTC - I'm The Man Who Murdered Love
8) Mia Doi Todd - Planting
9) Robyn - Be Mine
10) The Polyphonic Spree - Move Away And Shine