9.29.2005
Random News from the Mitten State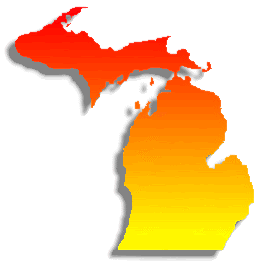 Well, I've learned my lesson. Never vote for guys
named
Carl
. But there is some good news coming out of Michigan these days. Thought I'd keep my fellow Michiganders updated.
First, U.S District Court Judge Denise Paige Hood
declared Michigan's so-called partial birth abortion law unconstitutional
. You might recall that the law failed to provide an exception to preserve the life and health of the mother, a stipulation that must be included in all abortion laws per the 2000
Stenberg
decision. Not surprisingly, the Michigan Catholic Conference is calling for Michigan Attorney General Mike Cox to appeal the decision.
And the hits keep coming for Mike Cox. His interpretation of Michigan Proposal 2, which amended the state constitution to prohibit same-sex marriage and/or civil unions, was struck down Ingham County Judge Joyce Dragunchuk. Cox insisted that the law prohibited universities and municipalities from providing benefits for same-sex partners of state and local government employees.
Judge Dragunchuk disagreed
, meaning that partners of employees in Detroit, Ann Arbor and Kalamazoo (among others) will be covered despite Proposal 2. Fundies are calling foul over this as well; according to Gary Glenn, president of the American Family Association of Michigan, Dragunchuk's ruling was unsurprising because she was "strongly endorsed by homosexual activists." She was also strongly endorsed by women's groups, due to her role in the implementation of a multi-agency domestic abuse task force in Ingham County. Wonder when the MRAs are going to chime in.
Labels: The Mitten
annamaria at 1:05 PM
Note to Carl Levin
Fuck you, too!

Roberts confirmed as Chief Justice.
"Roberts's support spanned the Democrats' ideological spectrum, including several senators from states that went Democratic in the 2004 presidential election. They include Carl Levin of Michigan, Christopher Dodd of Connecticut, Patty Murray of Washington, Russ Feingold and Herb Kohl, both of Wisconsin, Tom Carper of Delaware and Joseph Lieberman of Connecticut, who ran for vice president in 2000."

annamaria at 12:57 PM
Schadenfreude
scha·den·freu·de n. Pleasure derived from the misfortunes of others.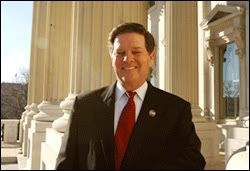 DeLay is indicted, leaves post
annamaria at 11:34 AM
9.23.2005
I got a perfect score.
How about you?
Your Political Profile

Overall: 0% Conservative, 100% Liberal
Social Issues: 0% Conservative, 100% Liberal
Personal Responsibility: 0% Conservative, 100% Liberal
Fiscal Issues: 0% Conservative, 100% Liberal
Ethics: 0% Conservative, 100% Liberal
Defense and Crime: 0% Conservative, 100% Liberal

person x at 11:43 AM
Friday Random Ten
Alright, so I'm a little late again this week. I started actually working at work, and completely forgot to post this! Sorry!
Anyway, before we commence with the music, just want to say hello to new BOMT reader Lauren! Lauren and I were the best of friends all through high school and college, and inexplicably lost touch for a few years. Then one day my caffeine addiction brought me to the local Caribou Coffee, and who should I see but Lauren in all her sassy cuteness making some ridiculously over-priced drink for some ridiculously over-paid suburbanite. And I must say, I ran into her just in time--I was beginning to bemoan my lack of barista friends willing to keep me in free coffee.
So, the list this week is truly random. And a good indication that I probably have some serious psychological problems, as this is the only thing that account for the fact that I can fill a list with indie-rock, and not see a problem with having Neil Diamond* on there, too. Come on, people--is there a better song than "Shilo"?? I think not.


St. Monday - Billy Bragg and the Blokes

Me, Myself and I - De La Soul

Shilo - Neil Diamond

Bitches Ain't Shit - Ben Folds

Girl Anachronism - Dresden Dolls

Come On! Feel the Illinoise! - Sufjan Stevens

A Man's Life Flashing Before His Eyes While He And His Wife Drive Off A Cliff Into The Ocean - Of Montreal

My Boyfriend's Back - The Raveonettes

Lost in the Plot - The Dears

My Mother was a Chinese Trapeze Artist - The Decemberists

Your turn!
---------------
*Once again I feel the need to point out that Neil Diamond and I
share a birthday
.
Labels: FRT
annamaria at 9:38 AM
Where's Jen??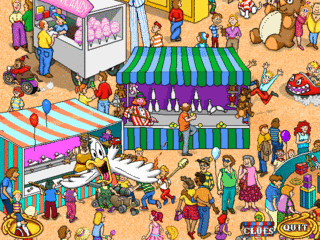 Jen, check in and let us know you are still alive. So very quiet this week!
annamaria at 9:30 AM
9.22.2005
This sounds eerily familiar...
Apparently I'm destined to spend the day updating a bunch of old BOMT posts. This time, it's Starbucks and their nefarious Armistead Maupin-quoting
coffee cups
. You'll recall that the Concerned Women for
Patriarchy
America called for a boycott of the over-priced coffee chain because the Maupin quote "blatantly pushes the homosexual agenda." Now
Amanda
informs us that Baylor University (conveniently located with all kinds of other nutjobs in Waco, TX) has
pulled the offending cups
from its campus Starbucks.
Baylor spokesperson Larry Brumley makes me laugh when he says "I think they were trying to be sensitive." Uh, yeah.
The Starbucks website has a
full list
of coffee cup contributors. I wonder how long before the Rufus Wainwright cups get pulled.
annamaria at 1:32 PM
Boycotts are fun!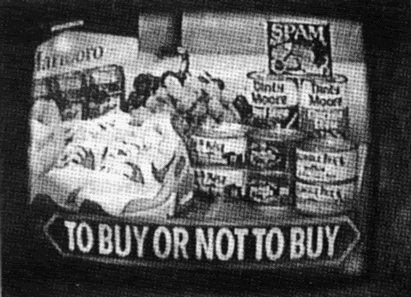 You might recall that I linked to a
boycott list
provided by Life Decisions International last month, meant to by used by anti-choicers who might otherwise, unwittingly, support businesses that support women. LDI president Douglas R. Scott stopped by to respond to the post, and was kind enough to give us permission to use the list as a "buy-from" guide, rather than a boycott. Awfully big of him.
And awfully nice of WorldNetDaily to give us yet another list of corporations that are willing to support human rights. This time, it's a list of
101 gay-friendly corporations
. Well, WND calls them "America's pro-homosexual giants," but to me that just sounds like really, really tall drag queens.
I must admit to being a little surprised about at least one company on this list. Molson Coors Brewing?? Seriously? What, sodomy is a-ok with these people but heaven forbid women actually get to make a decision about their own fucking bodies? Must be
Dr. Hager syndrome
.
-----------------
PS: Add a country to that list; the Czech Republic is one step closer to passing
domestic partnership legislation
. So, Rich, can we go to Prague
now
?
Labels: LGBT
annamaria at 12:09 PM
9.20.2005
Big in Japan
So, today I blogged about Germany and cars. Seems appropriate that I should now combine both topics in a single post:
Tom Waits, the gravelly voiced, Grammy Award-winning singer and songwriter, has filed suit against General Motors' Opel and the ad agency McCann Erickson in Frankfurt, Germany for producing and broadcasting a series of car commercials that used a perfect impersonation of Waits' singing voice.

Waits had been approached several times and refused to participate in the advertisements. After the defendants were told that Waits has a long-standing policy against doing commercials, their agents hired a soundalike singer to imitate Waits, according to the lawsuit.
Waits is apparently claiming that GM/Opel has violated his "personality rights" by hiring a soundalike for the commercials. I always knew Waits was a little off but
personality rights
? Do they even exist? If so, I want to file suit against all pale, dark-haired girls with crushes on Jim Jarmusch, because they've obviously been stealing my style.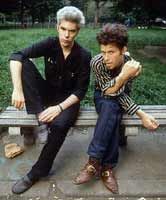 Waits and the object of my affection
Seriously, though, you've got to applaud Waits's determination. It's like Bill Hicks said, you do a commercial, you're off the artistic roll call. Unlike other artists (ahemMobyahem) who soullessly sell off every song they've ever penned to the highest corporate bidder, Waits is making a statement that art never benefits from the corporate largesse. As always, Waits says it better than I ever could:
"Apparently,the highest compliment our culture grants artists nowadays is to be in an ad -- ideally naked and purring on the hood of a new car. I have adamantly and repeatedly refused this dubious honor. Currently accepting in my absence is my German doppelganger. While the court can't make me active in radio, I am asking it to make me radioactive to advertisers."
annamaria at 9:25 AM
Universal truths about women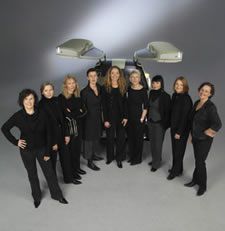 Women don't know shit about cars. It's true, that's why we leave all the gear-head stuff to our husbands, and focus solely on what exterior color will be least likely to clash with our favorite handbag and/or pair of shoes. Even I, faithful employee of one of the Big Three, care only about cars to the extent that I look cute behind the wheel of one. Pumping my own gasoline is about the extent of my interest in the "dirtier" aspects of vehicle maintenance.
Of course, you don't have to take my word for it, just ask
General Motors
:
For three days in late August, it was Girl's Day Out in Southern California, with massages, makeovers, golf lessons, cooking instructions -- even test drives.

Far from a showroom, General Motors Corp. invited women only -- and their girlfriends, daughters and moms -- to get behind the wheels of Hummers, Saabs and Saturns at a special marketing event.

[…]

The automaker provided makeup experts who performed makeovers, golf pros who offered tips to improve golf swings, and celebrity chefs who shared recipes and cooking tips. There also were free massages, tasty hors d'oeuvres, seminars about getting organized and a fashion show.

"We know women influence up to 85 percent of all (auto) purchases," said Cynthia Price, manager of GM's women's marketing initiative. "We decided to create an event that's a more relevant experience for women."
A more relevant experience for women? A fashion show?
Not surprisingly, if you really want to know how women feel about cars, you need to ask the Swedes. Last year, Volvo unveiled an experimental vehicle
designed by and for women
. It boasts such features as:
A low-emission, gasoline-hybrid engine

A low-maintenance engine which only requires an oil change every 50,000 miles. The vehicle's communications system sends a message to the dealership, automatically scheduling a maintenance appointment.

No gas cap allows for easier fueling.

Bumper sensors allowing for easier parking.

The washer fluid reservoir was moved closer to the fuel door, allowing the driver to both fuel up and refill washer fluid simultaneously.
Volvo made no reference to the exterior color. Although, I'm sure its pink.
---------
Edited to add: Rich points me to
this article
dispelling the myth of gender difference. It's an interesting read.
annamaria at 8:53 AM
Four things Germany has learned from the United States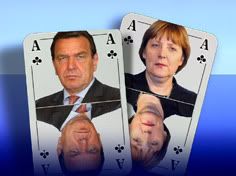 When running a national election, it is important to choose a liberal candidate who has moved so far to the right that he has little (if any) ideological differences with the conservative candidate. This will ensure that a stratified public will reject both major candidates in equal measure, deadlocking your election.


When your national election ends without a clear winner in sight, it is important for both centrist candidates to claim victory. This will confuse the public into thinking that a constitutional crisis didn't actually occur.


A mandate is achieved when one party's margin of victory falls just outside of the statistical margin of error. In Germany, this means three seats in a 600-seat Parliament. In the United States, this means 60,000 votes in Cuyahoga County.


When faced with the prospect of two parties unable to form tenable coalitions, it is important for the incumbent party to pretend that the election is something other than a referendum on their achievements in the past term. In Germany, this means trotting out the SDP Chairman, Franz Muentefering, to say things like, "The message was clear: This country does not want Mrs. Merkel as chancellor," while conveniently ignoring that the country didn't necessarily want Schroeder as chancellor either. In the United States, this means pointing out that Bush garnered more votes in 2004 than any candidate in US history, while conveniently ignoring that in that same election, John Kerry jumped to number two on that list.

annamaria at 8:15 AM
9.16.2005
Friday Random Ten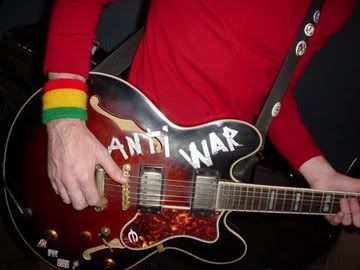 Ugh. I'm sick. My head hurts and I'm tired and I just want to go home and sleep. But, instead, I'm at work, hating all of my co-workers without headaches and fucked up sinuses, and seriously considering a career in telemarketing or something, so that no one can fault me for hating my job so much. Of course, I could find a job that I don't hate, but then what would I complain about?
You know what I don't hate, though? The Friday Random Ten. Mostly because it happens on Fridays, and Fridays mean weekends, and weekends mean sleep. My list this week is a little strange--I'm in the midst of transferring all of my mp3s from one program to another, and managed to weed out all of the shit that got on there when I wasn't looking (translation: all of the songs I'm embarrassed to own). So, most of this is either stuff I downloaded this week, or songs that I simply cannot live without (See Roxy Music. See a happy Annamaria).


The Man in Black - Johnny Cash

Dry Drunk Emperor - TV on the Radio

svefn g englar - Sigur Ros

Cold Wind - The Arcade Fire

Cash Machine - Hard-Fi

Breathe Me - Sia

Hummingbird (live) - Wilco

Avalon - Roxy Music

The Angels' Share - Ted Leo & The Pharmacists

Seagulls Screaming Kiss Her, Kiss Her - XTC

You know what to do.
Labels: FRT
annamaria at 10:41 AM
9.13.2005
Happy Anniversary!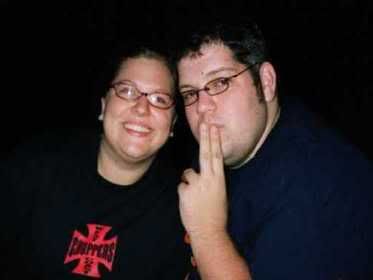 You know, they say after a while married couples start to look alike
Hey, just a quick post to wish Jen and Ian a happy anniversary! Shit, has it really been two years already?
annamaria at 9:47 AM
9.12.2005
New Music for You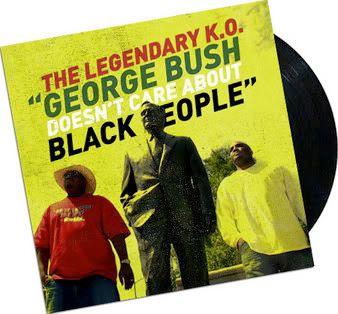 I've been on a downloading spree the past few days, and I thought I'd share some of my favorite finds with you, dear readers. Check them out, and let me know what you think.
I'm sure you all remember Kanye West's now infamous ad lib during the Hurricane Katrina fundraiser. Well, The Legendary K.O has taken a line (and a tune) from Kanye, and given us my vote for single of the year:
George Bush Doesn't Care About Black People
. While you're at it, check out Kanye's
Gold Digger
in
Real Audio
or Windows Media
low
or
high
Kanye not your thing? How about indie rock covers of bad 80s songs? Check out Death Cab for Cutie and Mike Doughty's take on
Hungry Like the Wolf
. Word of warning, it's taken from a live show in Seattle, so the quality isn't the best. But still so very worth it. Metroblog has the
video
Speaking of indie rock covers, seems like everyone loves Yeah Yeah Yeahs these days. First, Ted Leo breaks into
Maps
in the middle of his brilliant rendition of Kelly Clarkson's
Since U Been Gone
, and now
The Arcade Fire
takes on the entire song.
Finally, I've fallen in love with Detroit's favorite dandy-rockers, PAS/CAL, and this demo of
O Honey, We're Ridiculous
.
----------------------------
Most of this shit comes from
gorilla vs. bear
, so head over there for more great songs.
annamaria at 7:48 AM
9.09.2005
Friday Random Ten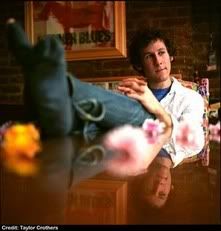 So, yeah, Jen's been busy blogging this week, while I've been busy trying to think of something interesting to say. Given my silence for the past seven days, you'd be right to conclude that all my effort was for naught. I'm thoroughly uninspired these days. Sorry.
At least it's Friday, which means, of course, it's time for musical randomness. Unfortunately, it seems that even my music is uninspired these days--how boring is this list??


Queen of the Savages - The Magnetic Fields

We're All in This Together - Ben Lee

Don't Be a Dick - Panthers

Admit It - Say Anything

Foolish Love - Rufus Wainwright

John Walker's Blues - Steve Earle

There's No Fucking Rules Dude - !!!

Don't Make Waves - The Gossip

Black Coffee In Bed (live) - Squeeze with Ben Folds

The War Criminal Rises and Speaks - Okkervil River

Your turn!
Labels: FRT
annamaria at 8:55 AM
9.07.2005
Quote of the Day: The hatemonger doesn't fall far from the tree.
From the AP:

Commenting on the facilities that have been set up for the evacuees -- cots crammed side-by-side in a huge stadium where the lights never go out and the sound of sobbing children never completely ceases -- former First Lady Barbara Bush concluded that the poor people of New Orleans had lucked out.

"Everyone is so overwhelmed by the hospitality. And so many of the people in the arena here, you know, were underprivileged anyway, so this, this is working very well for them," Mrs. Bush told American Public Media's "Marketplace" program, before returning to her multi-million dollar Houston home.

On the tape of the interview, Mrs. Bush chuckles audibly as she observes just how great things are going for families that are separated from loved ones, people who have been forced to abandon their homes and the only community where they have ever lived, and parents who are explaining to children that their pets, their toys and in some cases their friends may be lost forever.

person x at 11:06 PM
9.06.2005
George Bush loves black people.
Since Kanye ripped into him, have you noticed that the photos appearing online, on the news, and in various publications are a little more, errrr, colorful?
Before: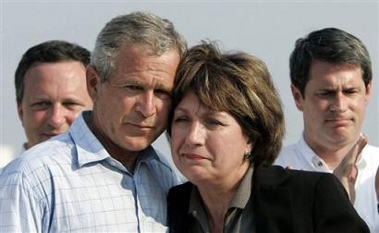 After:
person x at 4:44 PM
9.04.2005
Fucking great.
Dead.
More later.
person x at 10:17 AM
9.03.2005
George Bush hates Kanye. And I hate George Bush.
Taken from
Andrew Sullivan
-- and I can't think of anything to add:
"The good news is - and it's hard for some to see it now - that out of this chaos is going to come a fantastic Gulf Coast, like it was before. Out of the rubbles of Trent Lott's house - he's lost his entire house - there's going to be a fantastic house. And I'm looking forward to sitting on the porch. [Laughter.]" - George W. Bush, today.

Just think of that quote for a minute; and the laughter that followed. The poor and the black are dying, dead, drowned and desperate in New Orleans and elsewhere. But the president manages to talk about the future "fantastic" porch of a rich, powerful white man who only recently resigned his position because he regretted the failure of Strom Thurmond to hold back the tide of racial desegregation.

person x at 3:27 PM
I hate the Red Cross.
I have already talked about, to some extent,
my hate of the Red Cross
. An additional reason would be its mismanagement of 9/11 donations and blood bank operations (notably, continuing to call for blood donations, as it is their profitable little bit of bread and butter,
even though they knew the blood would not be needed
)
So where do I, being a caring individual, donate funds for hurricane relief?
Annamaria suggests to try the
American Friends Service Committee
, a Quaker organization which promotes peace, non-violence and social justice, currently accepting donations on behalf of the victims of Hurricane Katrina.
Another option I am considering? Either the
ASPCA
or
Humane Society of the United States
.
Wherever you decide to donate, if you decide to donate, just be sure to do your homework to make sure the most of your donation is actually going to disaster relief. Non-profit analysis sites like
GuideStar
and
Charity Navigator
are extremely helpful in this area.
person x at 12:47 AM
9.02.2005
"George Bush does not care about black people."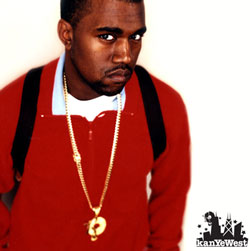 Amen, Kanye. Am I the only one surprised that
someone went off script
in the televised lovefest that was the NBC fundraising show entitled "Hugs and Denial: No Rapes Here!"
Kanye, in pleading for donations to the Red Cross (ICK) aside Mike Myers, ignores the teleprompter.
What makes me angry is the coverage of Kanye after the fact.
This shitty site
, for example, briefly discusses his comments in a handfuls of paragraphs, states they were out of place (where is the place?), follows with a lengthily diatribe painting the picture of the spoiled, rich, out-of-touch, simple nigger*.
I'm sorry. While GWB left his vacation slightly early, he did not leave
when the hurricane hit
. George Bush doesn't give a shit. He cared so little about the people of New Orleans that the seven minutes he sat around reading a book to kids on 9/11 actually looks
good
in comparison. Maybe he is just under the impression that the Republicans have the South covered anyway, and what are a few dead niggers* in the long run? They aren't going to vote for a Republican anyway.
Because that's who is traditionally left behind and unable to evacuate - the poor. And you know what? The poor in the South are black.
112,000 African-Americans in New Orleans make less that $8K/year. They aren't able to just jump into their SUVs and head off to their other homes that are out of the path of destruction.
Sure, there are a percentage of people who are looting and taking water-logged television sets, but there are also those who are looking for
food
or
drinkable water
or
a fucking pair of shoes
.
The best part, as I just saw on Real Time with Bill Maher? The captions that go along with photos of the looters.
Under a picture of a young black man, bags of groceries and soda in hand:
"After looting a local grocery store..."
Under a picture of a white couple, bags of groceries in hand:
"...make their way through water after finding bread at a local grocery store."
Virtually the same picture, but it's amazing what changing one word will do.
Now, what do we do? We in the North must sit, helpless, knowing that there is no structured plan for relief. Those people who struggled so much, busting their way out of flooding attics and out onto their roof to be plucked and taken to "safety," are now dying.
The survivors are now dying. And being raped. And being attacked. And shot.
What do we do? Are we to look down upon anyone, including Kanye, for voicing their frustrations when Bush cannot even leave his vacation because he doesn't want to be troubled?
The Democratic party is dead, as I have said. If we need to have someone like Kanye stand up and point out that shit is
not
going well -- well, fuck it. As long as someone is saying it.
*I hate the "n" word. But you know what? In discussing this situation it is appropriate. I can't help it.
person x at 11:22 PM
Friday Random Jay
So, my friend
Jay
has been out of town all week, leaving Detroit for the beautiful, tornado-striken suburbs of Atlanta. Good for him! In his absence, I've been staying at his house, babysitting his adorable son Ben, and even more adorable wife Alison. Since I couldn't get to my own computer to do the random ten, I decided to use Jay's collection, and list the first ten songs that Jay and I have in common. I think I went through hundreds of songs before I could finally come up with this list!


Rock the Casbah - The Clash

Centerfold - J. Geils Band

Honky Tonk Woman - The Rolling Stones

Insane in the Brain - Cypress Hill

In My Life - The Beatles

Space Dog - Tori Amos

Since U Been Gone - Kelly Clarkson

Punk Rock Girl - The Dead Milkmen

Beth - Kiss

Never Gonna Come Back Down - BT w/ Mike Doughty

You're turn!
Labels: FRT
annamaria at 9:52 PM
9.01.2005
A title that has nothing whatsoever to do with the content of this post
I have a few basic beliefs—men shouldn't have opinions on abortion, women shouldn't have opinions on prostate exams, and home-schooled kids shouldn't dictate what happens in public schools. It's really simple—if it doesn't directly affect you, then shut the fuck up.
So, when Renew America's resident homeschooled teen
Rudy Takala
tackles the issue of religion in schools (and court houses), I can't resist pointing out what a fuckwit he is. Particularly when he's dumb enough to title his column "Evolution is unconstitutional."
Takala begins with the usual tripe—the 7th Circuit Court defined atheism as a religion, which built upon a Supreme Court decision in 1961 which defined Secular Humanism as a religion, meaning that people have the right to deny the existence of god, and therefore Hurricane Katrina wipes out Bourbon Street. Okay, so he didn't work in the hurricane, but he's just about the only one these days.
So far, basic wingnut logic, right? The judiciary decided that religions other then Christianity are legal, and therefore the world is going to end. Or something like that. But then Takala tries his hand at what I can only assume is logic (or a right-wing derivation thereof), and declares evolution unconstitutional because it's atheist, and since atheism is a religion, evolution is now creationism. Except he doesn't. I think. Frankly, he lost me at the first sentence:
Because non-religion is now a religion, the Establishment Clause of the Constitution now requires all court houses in the United States to publicly display a copy of the Ten Commandments. When religion was defined simply as a belief in God, it was unconstitutional to display religious monuments anywhere near court houses. However, the absence of God has also become a religion. At best, the amount of space in court houses filled by religious paraphernalia will have to be equal to the amount of space without any religious things.
First of all, for legal purposes, religion was never "defined simply as a belief in God," but rather a belief
about
deity—this is why the Supreme Court decided in
Torcaso v. Watkins
(1961) that Secular Humanism is a religion: it adheres to a system of beliefs about god, mainly that he doesn't exist, or that his existence cannot be proven.
Secondly, the absence of religious paraphernalia is not atheist in nature—it just is. My desk isn't atheist because I don't have a Virgin Mary statue on it. When I burn my toast, and it doesn't resemble the Shroud of Turin, have I made atheist toast? Or is it just burnt? And Secular Humanists don't worship oak-paneled walls, so the lack of a Ten Commandments display posted on them doesn't make the walls atheist, either.
Then Takala goes on to talk about vouchers, which bores me. Except when he says this: "That's the fifth or sixth reason public education is unconstitutional, anyway. Maybe when we get to ten, it'll be enough to do something about it."
Disclaimer: I make a distinction between homeschooling and de-schooling, mostly because I have several nieces and nephews who are de-schooled (ironically, because their parents believe there is too much religious influence in public schools). So, if anyone here is de-schooling, rest assured that I'm not talking about you. However, for the homeschooled set—are you fucking crazy? Sitting around the kitchen table and reading Scripture is not an education. Nor is it a great way to socialize your kids for the real world, where they will be subjected to people with *gasp* different opinions than yours. Public school in America is hardly ideal (mostly because of douchebags like Takala who revel in its appalling lack of funding), but at least these kids are learning math and science from teachers who
have degrees in math and science
.
And for all of Takala's blustering about atheism being the new state religion, he never even
mentions
evolution--and it's in the fucking title! This is why homeschooling is a bad idea. The title of an article should relate in some way to its central thesis--I learned this in the third grade. Apparently, when Takala was in the third grade (whateverthefuck that means when your homeschooled) he learned that putting quotation marks around a phrase (see "secular humanism" or "gay marriage") is the wingnut version of rebuttal.
annamaria at 9:06 AM
Did you know that my birthday is the most depressing day of the year?
Wow, Jen and I have been really quiet this week. Work has been kicking my ass (as it tends to do at month end), and I really don't know what Jen's excuse is. I'll just pretend that she's lazy. It's probably true.
I promise something smart and insightful at some point today, but in the meantime, check out this
Birthday No.1 Generator
. Plug in your birthday, and it will tell you what single topped both the US and UK charts on the day you were born. Mine are:
Mull Of Kintyre / Girls' School - Wings( UK)
Baby Come Back - Player (US)
Those aren't fun at all! Particularly considering that Rich's #1s were John Travolta & Olivia Newton John - "You're The One That I Want" (UK) and The Commodores - "Three Times A Lady" (US). Besides, I thought being born in 1978 would guarantee me a great disco tune for my #1--actually, had I been born a week later, my American #1 would have been "Stayin' Alive" by the Bee Gees. Damn!
So, go now and find out what your #1s are, and leave them in the comments.
----------------
PS: the post title isn't a lie. My birthday really
is
the most depressing day of the year
.
annamaria at 7:31 AM